Design Portfolio
As the first communication your prospective client experiences, we make sure your materials present the professional and legal-appropriate image that makes your prospect feel comfortable with you.
Website
Stationery package – business cards, letterhead, envelopes
Brochure
Professional announcement
Advertisements
We carefully protect the identity of our clients. The following individuals and firms have given us permission to show their materials as examples of our design work: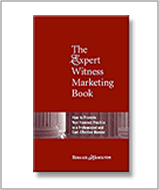 The Expert Witness Marketing Book
by Rosalie Hamilton
---
Portfolio – a sample of effective marketing materials created for EC clients.
---