Do you want to know how to become an expert witness, or to get more clients and cases?
We can help.
Practice Development, including materials and website creation
Wherever you are in your expert witness practice, we can help grow your business.
Marketing analysis with specific recommendations.
Implement your marketing program – create your business card and other marketing materials, compose and place listings, etc.
Build or update your website and optimize it.
Marketing Management – serve as your firm's marketing department.
Expert consultants are expert at their own professions; they are not expected to be experts at marketing. But we are. We can coach you in doing your own marketing, or we can do it for you. Click here for our Services.
"Your timely suggestions enabled me to begin my investigation and expert service company. Those suggestions also saved me unneeded expenses."

—Former FBI Agent
Other Services
We provide one-on-one coaching on communication skills, how to present yourself in a professional manner in order to build confidence and poise, not only for presentations, but also to take better advantage of networking opportunities.
Even as the lessons learned still resonate, I wanted to thank you again for your enormously insightful analysis of my issue (conversational discomfort). With appreciation.

—M.D.
Rosalie Hamilton is a popular speaker at association meetings and seminars. Click here to see What Attendees are Saying about presentations by Rosalie Hamilton. Call Meredith at 727-460-2332 for arrangements.
If you are considering starting an expert witness practice, whether medical or any other kind of professional, Rosalie's podcast interview, "How to Succeed in a Medical Expert Witness Practice," contains helpful information for you.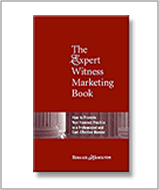 The Expert Witness Marketing Book
by Rosalie Hamilton
---
Portfolio – a sample of effective marketing materials created for EC clients.
---